Do you struggle to find the perfect gift for the Traveler in your life?   Here's a list of ideas that are sure to be a hit:
This is a treasure for any one who loves to visit the National Parks, with most one-day admissions costing $10 and up.  For $80, the America the Beautiful Pass grants free admission to most National Parks for the entire one year period from which it is activated.  Keep in mind that Seniors are eligible for a discounted Annual or Lifetime Pass, and the Pass is free for current U.S. Military.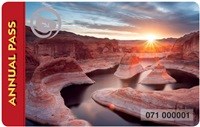 There are some wonderful Reciprocal Membership that allow free or discounted entry at locations across the country for Museums, Zoos, Nature Centers, and Aquariums.  This is an invaluable gifts for families on the road!
Photo Books
A gift card to a website that turns travel photographs into treasures such as photo books, calendars, puzzles, and blankets is an excellent option.  Shutterfly is my preferred website, but others such as Snapfish or Blurb and even Walgreens and CVS also offer great Photo gift options.
Travel Tracking Maps
Avid travelers love to track their travels prominently to show which states and countries they have visited.  The most popular maps I've seen are USA and World Sticker Decal Maps, but there are a whole variety of fun maps these days, including Scratch Off Maps, Cork Globes, and even National Park Maps.  (Read about more ways to Track Your Travels Here.)
Travel Journals
Journals and books about travel in general make great gifts.  There are a variety of very nice options that can be specific to one's travel, such as an RVer's Journal, Road Trip Planner & Journal, Children's Journals, Exploring Teens, and Travel Notebooks.
Kids Books about Travel
There are some books and series that focus on destinations and encourage children to engage in their surroundings.  One book series that we used as we traveled the USA was the Larry Gets Lost Series, which involves a little boy whose dog keeps getting separated from him, while traipsing around the landmarks of those cities.
The Wonders of America is another popular, non-fiction book series that my children enjoyed when visiting landmarks across the country.
Travel Bling
There are many, many fun decor ideas for travelers and adventure seekers that they probably wouldn't splurge on for themselves.  Some of the favorites I've come across online are dish towels, wind chimes, awning lights, pillows, mugs, wall decals, and wall hangings.

Happy Shopping!
*This page contains Amazon Affiliate Links, at no extra cost to you, that help to support this website.  Thanks!
Save
Save
Save
Save
Save
Save
Save
Save
Save
Save
Save
Save
Save
Save
Save
Save
Save
Save
Save
Save
Save
Save